MikroTik RouterOS is the operating system of MikroTik RouterBOARD hardware. It can also be installed on a PC and will turn it into a router with all the necessary features - routing, firewall, bandwidth management, wireless access point, backhaul link, hotspot gateway, VPN server and more. RouterOS is a stand-alone operating system based on the Linux v2.6 kernel, and our goal here at MikroTik is to provide all these features with a quick and simple installation and an easy to use interface.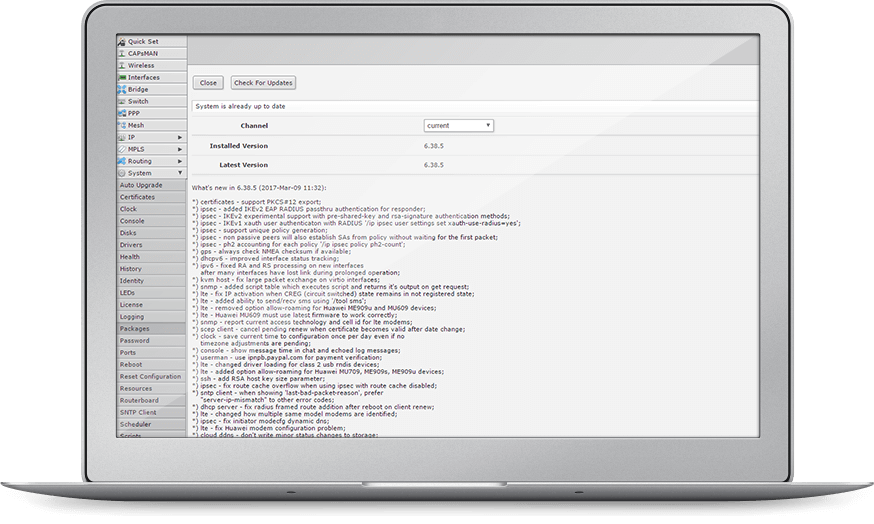 Although MikroTik provides a wide variety of in-house developed RouterBOARD hardware devices, RouterOS also runs on X86 machines. RouterOS supports multi-core and multi-CPU computers (SMP). You can run it on the latest and greatest Intel motherboards and use the newest multicore CPUs. RouterOS supports installation on IDE, SATA and USB storage devices, this includes HDDs, CF and SD cards, SDD disks and more. You need at least 64MB of space to install RouterOS, which will format your partition and become the default operating system of the device it's in. Of course RouterOS has a multitude of supported network interfaces, including the latest 10 Gigabit ethernet cards, 802.11a/b/g/n wireless cards, SFP modules and 3G/LTE modems.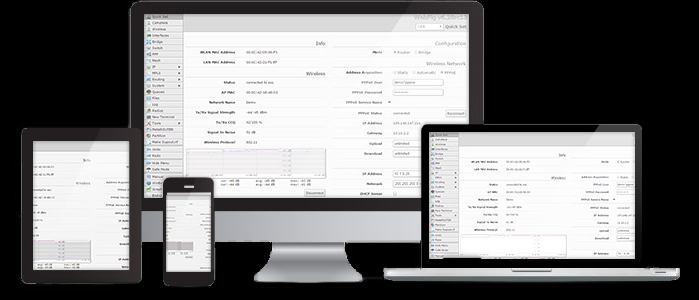 Features
So, RouterOS is MikroTik's stand-alone operating system based on linux v3.3.5 kernel. Released in 1997 with vast number of features, it was the reason the MikroTik began to grow and become one of the leaders of the industry. The following list shows features found in the latest RouterOS release:

Hardware Support
i386 compatible architecture

SMP - multi-core and multi-CPU compatible

Minimum 32MB of RAM (maximum supported 2GB, except on Cloud Core devices and CHR installations, where there is no maximum)

IDE, SATA, USB and flash storage medium with minimum of 64MB space

Network cards supported by linux v3.3.5 kernel (PCI, PCI-X)

Partial hardware compatibility list (user maintained)

Switch chip configuration support

Installation
M: Netinstall: Full network based installation from PXE or EtherBoot enabled network card
Netinstall: Installation to a secondary drive mounted in Windows

CD based installation

Configuration
RouterOS supports various methods of configuration - local access with keyboard and monitor, serial console with a terminal application, Telnet and secure SSH access over networks, a custom GUI configuration tool called Winbox, a powerful Web based configuration interface and an API programming interface for building your own control application. In case there is no local access, and there is a problem with IP level communications, RouterOS also supports a MAC level based connection with the custom made Mac-Telnet and Winbox tools.
RouterOS features a powerful, yet easy to learn commandline configuration interface with integrated scripting capabilities.
Winbox GUI over IP and MAC

CLI with Telnet, SSH, Local console and Serial console

API for programming your own tools

Web interface with Quickset easy setup page